You know testimonials can make a big impact on influencing prospects to do business with you. But knowing how to ask for a testimonial isn't always so simple. That's why we created this guide—to arm you with the information and tools you need to effectively ask your customers for testimonials and generate a compelling collection of praise. We've updated this guide for 2023 to give you even more ways to request testimonials this year, and useful templates to help you get started.
In this post:
---
Powered by Embed YouTube Video
 Methods for requesting testimonials
Email is one effective avenue to ask for a testimonial. Later in this post, we'll provide testimonial request email templates to help you find the right way to ask, but here are a few other strategies to consider. The best way to ask for a testimonial will depend on your business and your customers.
1. Email
Email might be the fastest and most effective way to request a testimonial. If you have a landing page set up to collect testimonials, email has the added benefit of sending your customers straight to the right place. Use the templates later in the post to get started.
Testimonial request emails work best if you have a reasonably large email list and your customers are somewhat accustomed to getting emails from you. Keep the following tips and rules in mind when you're sending testimonial request emails.
Only send to customers who have given you permission. Sending emails to random people is a violation of the CAN-SPAM federal law and can land you in serious hot water.
Make sure customers have a way to unsubscribe. If recipients can't stop your messages, this is also a violation of CAN-SPAM.
Customize your emails. Email automation can save you a lot of time, but sometimes sending a personal message to a special customer can win you a better testimonial.
Send more than one email. Of course, you don't want to annoy your customers, but sending a few reminders, perhaps once a week, is unlikely to annoy anyone, and it will make your testimonial gathering campaign more effective. We've included a testimonial request email drip in this post to help.
Download the Testimonial Request Toolkit
2. Text Message
Customers receive dozens, even hundreds of emails a day. You might get your message across more effectively with a text message. Since most customers now use smartphones, you can still send your customer straight to your review landing page.
Text messages can be a highly effective way to get in touch with customers and get their attention. However, this must also be done with care. Text messages have more potential to annoy your customers than email, since they demand more of your customers' attention immediately. Keep these tips in mind if you're sending text messages.
Don't use text messages for advertisements. This is another violation of CAN-SPAM. Make an honest testimonial request, but don't try to sell products this way.
Only send text messages to customers who agreed to receive them.
Don't overdo it. One text message every two week, limited to a total of three, is probably enough to get your message across without annoying your customer.
Don't send to customers who have already provided feedback. If you're using automation, be sure to unenroll customers who give testimonials.
Keep it short. We've provided a text message template later in this post to help.
3. Link on Your Website
A link to your review page on your website can serve as the reminder customers need to give a testimonial. Consider placing this link, as well as a gentle reminder to leave a testimonial, on your homepage sidebar, on your blog, or a page to pay a bill or make a follow-up appointment.
It's helpful to use this link in multiple areas. Make sure that this link is noticeable, but not pushy. Keep these tips in mind:
Test your links. If you leave the link to your testimonial landing page up for a long time, test it regularly to make sure it's still working as it should. Broken links in noticeable areas send negative messages about your site overall.
Don't interfere with the site experience. If you use pop-ups, they should be easy to close, and shouldn't interfere with the navigation or use of the site. Avoid images or text that flash or use sound, as it can be distracting.
Filter out fake reviews. If you include a link to your testimonial page on your homepage, you may get "reviews" from people who have never tried your products or services. If you're gathering reviews for a third-party service, like Google Reviews or Yelp, you won't be able to filter the reviews. This might work better for gathering reviews yourself using a program like Boast.
4. In-Person
If you don't have a large or engaged email list, an in-person request can also be effective. This is ideal for business owners who like to engage with customers face-to-face and know their customers well. Since you're unlikely to get a testimonial on the spot, use a card with an applicable link on it, so they can more easily give a testimonial later.
If you conduct an in-person interview to gather a testimonial, consider the following tips:
Make your customer feel at ease. Ask them what will make them most comfortable. Try to frame the interaction as a conversation to keep it casual.
Have some questions handy. Before the interview, write up some open-ended questions you might ask your customer.
Test your camera. You don't need an entire video set-up to record a video testimonial, but you should test any equipment you're using beforehand.
5. Receipts
Only customers who have bought your product or services can give a testimonial. Printing a link to your testimonial landing page on your receipts ensures that all customers have a way to share their thoughts. You might put this on other materials your customers often look at, such as a menu, chalk board, or promotional materials.
This is a simple and straightforward way to ask for a testimonial. If a large number of your customers aren't frequently online, it can also be a good way to reach them. Remember to:
Keep the link short. You might use a link shortening service like bitly.com if your link is very long.
Make it clear. Customers probably won't know what to do with a mysterious link. Use a clarifying statement like "leave a review" or "tell us about your visit" to explain.
Test the link. If you use this link for a longer period of time, test it periodically to make sure it works. A broken link will confuse customers.
6. Social Media
Social media is an effective way for many businesses to stay in touch with a highly-connected audience. If you engage with your customers on social media frequently, consider making a testimonial request on your preferred platform.
We've included some testimonial request templates for various social media platforms in this post. If you use this method, keep the following in mind:
Ask more than once. Regularly posting a testimonial request to social media has the least potential to annoy your customers. Generally, it's also harder to get users' attention in this space as well. Post more frequently, maybe once a day or once every other day, for a set period of time.
Keep it short and clear. There's millions of posts competing for your customers' attention, so make sure your post clearly explains what you're looking for and how to leave a testimonial.
Monitor mentions. If someone makes a positive mention of your brand, thank them and ask them to leave a testimonial. If there is a lot of negative chatter around your brand, it's probably a bad time to ask for reviews or testimonials.
7. Event
If you plan to connect with a number of customers at a conference or another big event, this can be a great place to collect testimonials. Consider giving out cards with a link to a testimonial page, setting up a testimonial kiosk, or using a tablet device to collect testimonials.
This method can work if your events are in-person or online. If your event is online, post a link to your landing page in the text chat area and tell your participants, verbally, what the link is for. You might schedule individual sessions with certain participants after the event to collect testimonials directly.
8. Online Interview
Online interviews can be a great way to gather testimonials in-person, even when your customers are farther away. Just like a regular in-person interview, you'll want to have some open-ended questions ready to ask your customer. You might also want to have some lighting tips handy, so your customer isn't providing a testimonial from a dark, obscure room.
Just like the regular in-person interview, keep it casual. You'll need to record this interview to have a testimonial you can share, so make sure you tell your participant when you're recording. Most likely, there will be some sections you'll need to edit. Remember that this video testimonial doesn't have to be very long; a relatively brief, one- to five-minute statement from your customer about your business can be a great video testimonial.
---
Testimonial request email templates
To have the most success collecting testimonials, we recommend making email marketing a key component of your testimonial campaign efforts. Whether you have an email drip set up for all new customers, or you have a sales team dedicated to reaching out to customers post-sale, email is a powerful tool to help gather testimonials.
Can't find the right words to convince your customers to take action? That's why we created a collection of testimonial request emails that work.
1: The professional email approach
If your business's customer base tends to be more receptive to professional communication, like lawyers for example, this approach is right for you. Have the CEO of your company send out a personalized letter-style email asking for a testimonial. Take some time to add some personalized details to the email and make sure you include the link to your submission form, or web page that houses your submission form.
When to use it
How to ask for a testimonial isn't the biggest obstacle; the biggest obstacle is breaking through your client's busy day and compelling them to give a testimonial. It's best use this testimonial request email example after your work together is finished, when the project and the work that you did is still fresh in their mind. If you have any finishing details to wrap up or notices to send, you might send this email at the end, before the conversation lapses and the email gets buried.
Why it works
This email is timely, courteous, professional and brief. It explains what you plan to use the testimonial for, how to submit it, and how long it will take. By mentioning your work together, you personalize the request and highlight the hard work you put in. Before sending this email, you can see how the customer reacted to your work and whether or not they would give you a positive review, so you can easily screen your responses.
Download the Testimonial Request Toolkit
2: The casual conversation email
If your team is constantly interacting with your customers through email conversations, taking the more casual approach will work for you. Provide your team with a link to your submission form or web page so that they can send over a casual request when the conversation is at that point. Making sure your team is prepared with the right tools and questions will allow you to collect testimonials from customers at the perfect time when they are already having a conversation with a member of your team.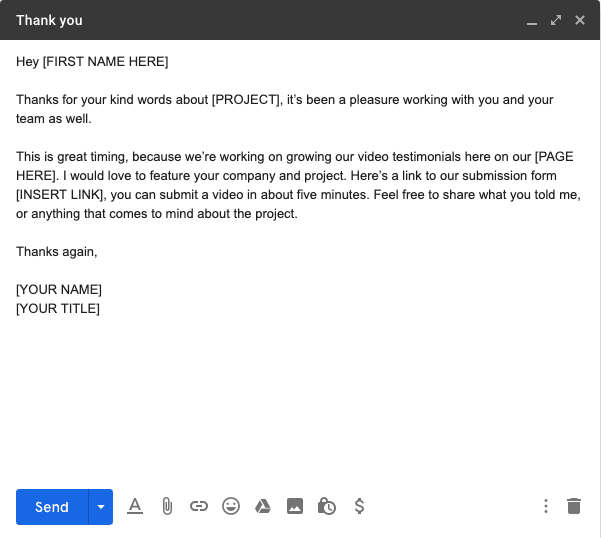 When to use it
Knowing how to ask for a testimonial is especially tough if you yourself don't regularly interact with customers. The major advantage of this email is that anyone can use it, from your sales team to project leads or whoever knows your customers best. It can also be used any time a customer expresses approval.
Why it works
Often, personal relationships are a large, but unspoken part of what a customer is really buying. While the customer may not have a special interest in the reputation of the company, their relationship with a salesperson or project lead may be more compelling. This email is casual and conversational, so it fits right into the current exchange between the point person and the customer.
---
3: The post-sale email
Creating an automated post sale email requesting a testimonial is a great way to touch base with customers when your company is top of mind. When a customer makes a new product purchase or receives a service from your company, those first 2 to 3 days after are a prime time to reconnect for a testimonial. This is a great example of a testimonial request email that fits perfectly into your automated testimonial collection process.
When to use it
Slide this email into your automated purchase follow-ups to bring in testimonials immediately after a sale. If you sell a product instead of offering a service, change the wording in the first sentence slightly.
Why it works
Knowing how to ask for a testimonial often means asking more than once, but without seeming pushy. When added to an existing, post-purchase email drip, this quick follow-up email requires no upkeep, but provides an additional reminder about where and how to add a testimonial.
---
4: The incentive email
Run a promotion or sweepstakes that incentivizes testimonial submissions and promote it via email. This could be anything from providing all of your customers a free t-shirt once they leave a testimonial, or giving them a discount on your product or service. The incentive you choose should be enticing enough that your customers are jumping on the chance to leave you a testimonial.
When to use it
This is another easy and flexible testimonial request email example. You'll need CRM system integrations to update accounts automatically, or you can put a customer service leader in charge of fulfilling free subscriptions. This is not only a great way to get more testimonials, but it's also a good customer retention activity to keep your existing customers engaged.
Why it works
Your customers are busy people, and they probably need some incentive to take time out of their day to help you. This quick, conversational email highlights the benefit your customer gets from submitting a testimonial, and shows them how easy it is to get it.
---
5: The marketing email drip
Add a testimonial request email to your marketing email drip used to connect with your customer at different stages in their buyers journey. This email should be added closer to the end of your drip. Email drips are a great way to share helpful tips and resources to your customers over time, so make sure your request is accompanied by this kind of content.
When to use it
Give your customer some time to get familiar with your service or unpackage your product, but don't wait too long. Send this testimonial request email example about a week after the customer signs up for your service or buys your product. If your product is seasonal or it will take longer for your customer to see results from your service, adjust your timeline accordingly.
Why it works
Testimonials lend social proof to your business, but they also show that you care about what your customers think. This testimonial request email example builds from that sentiment, asking customers to share their thoughts instead of simply saying nice things about your business. If your customers have critiques, you can solve them, but you don't have to make these testimonials public if you are managing them on your own platform.
---
6: Friendly check-in
Customer retention activities are essential to keep your most valuable and loyal customers coming back. As you check in with your customer, send them discounts, deals, helpful information, or other content, ask about their experience as well. Emphasize that their experience is important to you and that you want to serve them better. If they're pleased with their experience, invite them to share their opinion through a testimonial. This testimonial request email example is casual and approachable, speaking to the customer like a friend.
When to use it
Use this testimonial request email with loyal customers who haven't submitted testimonials before. Remember, you will probably have to ask more than once, so this gives you another polite way to reiterate.
Why it works
Loyal customers are the best customers. If you do a good job and make your customers' lives easier, they probably want to see you succeed. This gives your customers a chance to do that. It's short and sincere, using language that emphasizes the customers feelings and experience. This will make them more willing to reciprocate with a kind testimonial.
---
7: Combined with Net Promoter Score℠
The Net Promoter Score (NPS®), first appearing in the Harvard Business Review in 2003, is now considered one of the most clear and statistically accurate indicators of how customers feel about your business. If you're collecting this score as a part of your business health analysis, it's also a good time to use a testimonial request email.
When to use it
Using an automated email system or CRM system, send this follow-up email to the customers who gave you a 9 or 10 on your NPS survey. This way, you'll receive testimonials from those who are most likely to share good experiences.
Why it works
Adding this automated email to your NPS survey is quick and easy, and you'll directly reach positive customers who have already responded to a previous request. Giving them the option to submit a text or video testimonial allows them choose the method they prefer.