You know testimonials can make a big impact on influencing prospects to do business with you. But knowing how to ask for a testimonial isn't always so simple. That's why we created this guide—to arm you with the information and tools you need to effectively ask your customers for testimonials and generate a compelling collection of praise. We've updated this guide in 2021 to give you even more ways to request testimonials, and useful templates to get started.
In this post:
---
Powered by Embed YouTube Video
 Methods for requesting testimonials
Email is one effective avenue to ask for a testimonial. Later in this post, we'll provide testimonial request email templates to help you find the right way to ask, but here are a few other strategies to consider. The best way to ask for a testimonial will depend on your business and your customers.
1. Email
Email might be the fastest and most effective way to request a testimonial. If you have a landing page set up to collect testimonials, email has the added benefit of sending your customers straight to the right place. Use the templates later in the post to get started.
2. Text Message
Customers receive dozens, even hundreds of emails a day. You might get your message across more effectively with a text message. Since most customers now use smartphones, you can still send your customer straight to your review landing page.
3. Link on Your Website
A link to your review page on your website can serve as the reminder customers need to give a testimonial. Consider placing this link, as well as a gentle reminder to leave a testimonial, on your homepage sidebar, on your blog, or a page to pay a bill or make a follow-up appointment.
4. In-Person
If you don't have a large or engaged email list, an in-person request can also be effective. This is ideal for business owners who like to engage with customers face-to-face and know their customers well. Since you're unlikely to get a testimonial on the spot, use a card with an applicable link on it, so they can more easily give a testimonial later.
5. Receipts
Only customers who have bought your product or services can give a testimonial. Printing a link to your testimonial landing page on your receptis ensures that all customers have a way to share their thoughts. You might put this on other materials your customers often look at, such as a menu, chalk board, or promotional materials.
6. Social Media
Social media is an effective way for many businesses to stay in touch with a highly-connected audience. If you engage with your customers on social media frequently, consider making a testimonial request on your preferred platform.
7. Event
If you plan to connect with a number of customers at a conference or another big event, this can be a great place to collect testimonials. Consider giving out cards with a link to a testimonial page, setting up a testimonial kiosk, or using a tablet device to collect testimonials.
---
Testimonial request email templates
To have the most success collecting testimonials, we recommend making email marketing a key component of your testimonial campaign efforts. Whether you have an email drip set up for all new customers, or you have a sales team dedicated to reaching out to customers post-sale, email is a powerful tool to help gather testimonials.
Can't find the right words to convince your customers to take action? That's why we created a collection of testimonial request emails that work.
1: The professional email approach
If your business's customer base tends to be more receptive to professional communication, like lawyers for example, this approach is right for you. Have the CEO of your company send out a personalized letter-style email asking for a testimonial. Take some time to add some personalized details to the email and make sure you include the link to your submission form, or web page that houses your submission form.
When to use it
How to ask for a testimonial isn't the biggest obstacle; the biggest obstacle is breaking through your client's busy day and compelling them to give a testimonial. It's best use this testimonial request email example after your work together is finished, when the project and the work that you did is still fresh in their mind. If you have any finishing details to wrap up or notices to send, you might send this email at the end, before the conversation lapses and the email gets buried.
Why it works
This email is timely, courteous, professional and brief. It explains what you plan to use the testimonial for, how to submit it, and how long it will take. By mentioning your work together, you personalize the request and highlight the hard work you put in. Before sending this email, you can see how the customer reacted to your work and whether or not they would give you a positive review, so you can easily screen your responses.
2: The casual conversation email
If your team is constantly interacting with your customers through email conversations, taking the more casual approach will work for you. Provide your team with a link to your submission form or web page so that they can send over a casual request when the conversation is at that point. Making sure your team is prepared with the right tools and questions will allow you to collect testimonials from customers at the perfect time when they are already having a conversation with a member of your team.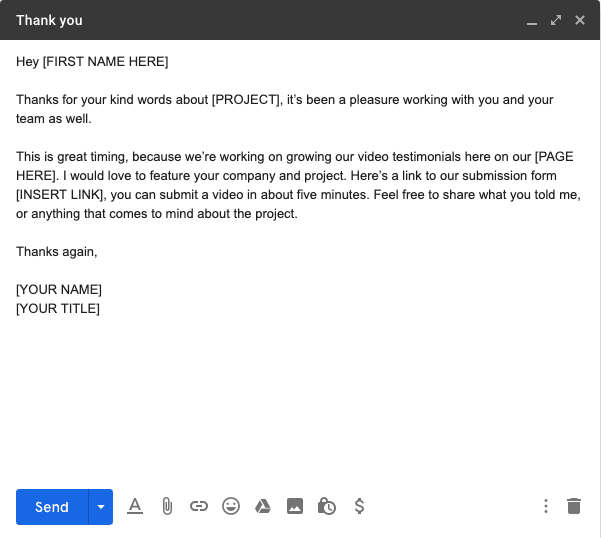 When to use it
Knowing how to ask for a testimonial is especially tough if you yourself don't regularly interact with customers. The major advantage of this email is that anyone can use it, from your sales team to project leads or whoever knows your customers best. It can also be used any time a customer expresses approval.
Why it works
Often, personal relationships are a large, but unspoken part of what a customer is really buying. While the customer may not have a special interest in the reputation of the company, their relationship with a salesperson or project lead may be more compelling. This email is casual and conversational, so it fits right into the current exchange between the point person and the customer.
---
3: The post-sale email
Creating an automated post sale email requesting a testimonial is a great way to touch base with customers when your company is top of mind. When a customer makes a new product purchase or receives a service from your company, those first 2 to 3 days after are a prime time to reconnect for a testimonial. This is a great example of a testimonial request email that fits perfectly into your automated testimonial collection process.
When to use it
Slide this email into your automated purchase follow-ups to bring in testimonials immediately after a sale. If you sell a product instead of offering a service, change the wording in the first sentence slightly.
Why it works
Knowing how to ask for a testimonial often means asking more than once, but without seeming pushy. When added to an existing, post-purchase email drip, this quick follow-up email requires no upkeep, but provides an additional reminder about where and how to add a testimonial.
---
4: The incentive email
Run a promotion or sweepstakes that incentivizes testimonial submissions and promote it via email. This could be anything from providing all of your customers a free t-shirt once they leave a testimonial, or giving them a discount on your product or service. The incentive you choose should be enticing enough that your customers are jumping on the chance to leave you a testimonial.
When to use it
This is another easy and flexible testimonial request email example. You'll need CRM system integrations to update accounts automatically, or you can put a customer service leader in charge of fulfilling free subscriptions. This is not only a great way to get more testimonials, but it's also a good customer retention activity to keep your existing customers engaged.
Why it works
Your customers are busy people, and they probably need some incentive to take time out of their day to help you. This quick, conversational email highlights the benefit your customer gets from submitting a testimonial, and shows them how easy it is to get it.
---
5: The marketing email drip
Add a testimonial request email to your marketing email drip used to connect with your customer at different stages in their buyers journey. This email should be added closer to the end of your drip. Email drips are a great way to share helpful tips and resources to your customers over time, so make sure your request is accompanied by this kind of content.
When to use it
Give your customer some time to get familiar with your service or unpackage your product, but don't wait too long. Send this testimonial request email example about a week after the customer signs up for your service or buys your product. If your product is seasonal or it will take longer for your customer to see results from your service, adjust your timeline accordingly.
Why it works
Testimonials lend social proof to your business, but they also show that you care about what your customers think. This testimonial request email example builds from that sentiment, asking customers to share their thoughts instead of simply saying nice things about your business. If your customers have critiques, you can solve them, but you don't have to make these testimonials public if you are managing them on your own platform.
---
6: Friendly check-in
Customer retention activities are essential to keep your most valuable and loyal customers coming back. As you check in with your customer, send them discounts, deals, helpful information, or other content, ask about their experience as well. Emphasize that their experience is important to you and that you want to serve them better. If they're pleased with their experience, invite them to share their opinion through a testimonial. This testimonial request email example is casual and approachable, speaking to the customer like a friend.
When to use it
Use this testimonial request email with loyal customers who haven't submitted testimonials before. Remember, you will probably have to ask more than once, so this gives you another polite way to reiterate.
Why it works
Loyal customers are the best customers. If you do a good job and make your customers' lives easier, they probably want to see you succeed. This gives your customers a chance to do that. It's short and sincere, using language that emphasizes the customers feelings and experience. This will make them more willing to reciprocate with a kind testimonial.
---
7: Combined with Net Promoter Score
The Net Promoter Score (NPS), first appearing in the Harvard Business Review in 2003, is now considered one of the most clear and statistically accurate indicators of how customers feel about your business. If you're collecting this score as a part of your business health analysis, it's also a good time to use a testimonial request email.
When to use it
Using an automated email system or CRM system, send this follow-up email to the customers who gave you a 9 or 10 on your NPS survey. This way, you'll receive testimonials from those who are most likely to share good experiences.
Why it works
Adding this automated email to your NPS survey is quick and easy, and you'll directly reach positive customers who have already responded to a previous request. Giving them the option to submit a text or video testimonial allows them choose the method they prefer.
---
8: After an upsell
If your customer purchased something small to begin with, they probably didn't submit a testimonial. However, if you continued customer retention and upsell activities, they may have returned for a larger purchase. Now that your customer is more familiar with your work, they're more likely to leave a testimonial.
When to use it
If your e-commerce system and email automation system are connected, you can add these personalized tokens to make the most impact after a second purchase. Use this automated email instead of your usual purchase follow-up emails so you can show your customer that you appreciate their repeat business.
Why it works
This is similar to the post-sale email, but it's personalized for this customer and this stage in the buyer's journey. Your customer is a bit more comfortable and a bit more attached to your business now, so they'll probably be more willing to share a testimonial. Acknowledging their return and personalizing this email with their purchase information shows that you're paying attention to them.
---
9: A nice response
If you use a CRM system to track customer activities on your website, in your store, or elsewhere online, you'll know when your customer engages with you. This is another good chance to reach out for a testimonial. Be careful not to do this too often, or your customer may get nervous about you tracking their activities.
When to use it
You'll want to carefully set triggers for this automated testimonial request email example, and make sure it only reaches real customers, not leads. The trigger might be something like "shared a tweet," "shared a blog post" or "referred a friend." You'll also want to filter engagement for positive mentions, and forward negative mentions to a customer service person instead.
Why it works
Customers who engage with you in a positive way show that they are willing to spend time to spread the word about your business. When you thank them and supply an easy way to engage further, they're more likely to give a testimonial.
---
Social Media Testimonial Request Templates
Businesses that don't have a strong email list might have a strong social media following instead. You can use your accounts to also ask for testimonials from your fans and followers. You might do this through a direct message to customers you know have visited your business and made a purchase. Or, you might do this through a public post that all of your fans can see, or even a boosted post that will have a better chance of getting in front of your audience. In this scenario, an incentive like a discount or gift card might be helpful, but this might also cause non-customers to submit testimonials, so use this strategy carefully. Here are a few social media testimonial request messages to get you started.
Before making these messages, make sure you have a testimonial landing page set up, so you can simply include the link and your followers can go straight to the page and provide their testimonial.
1. Facebook Public Post
If you've been active on your Facebook page and your posts tend to get a lot of engagement, a Facebook post might be the perfect place to request a testimonial. Social media feeds progress quickly, so for this message to have maximum impact, you'll probably have to post more than once. Change up the message slightly each time you post, so it doesn't become white noise for your audience. If you're not getting the impact that you're looking for, experiment with boosting a post, so your audience is more likely to see it.
We want to hear from you!

If you've visited [Business Name] and you had a great experience, we want to know about it! Click this link to give us your testimonial, including a text or video, and tell us what you enjoy about [Business Name]. Share your thoughts >>> [Link here]
2. Twitter Public Post
Since it's designed for quick, short messages, Twitter moves even faster than Facebook. But if your business has had high levels of engagement from Twitter, this can be a good place to gather more testimonials. Once again, it's a good idea to change this message slightly and repost several times for maximum impact.
Hey there! If you love [Business name], we'd love to hear about it! We built this page to get your text or video feedback. Tell us what you think! [Link here]
3. Instagram Public Post
Instagram is focused mainly on images, which means you'll need to have a clear and attractive image associated with your testimonial request on Instagram. Web-based image editors like Canva are great for this, and they don't require any software downloads or additional apps. Create your image and then include a caption like the following. Don't forget to include a link to the testimonial collection page in your bio. Consider adding the post to your Instagram Stories as well, and adding the link there.
We love our customers. Our success is built on your support, and we want to hear from you. We'd love to know what you think about [our business], what your last [visit/purchase] was like. Visit the link in our bio to give us your feedback. We appreciate it!
4. LinkedIn Public Post
Many professional businesses do especially well on LinkedIn and this can be another ideal avenue for asking for testimonials. This is also a good way to demonstrate your dedication to your clients, and show that their feedback is important to you. As with the other platforms, you'll need to change this message slightly and post more than once. This message should be less casual and more professional than the previous three.
We at [Business name] are always striving to create an even better experience for our clients. To do this, we need your input. Use your smartphone or laptop to record a video, or type out a response, and tell us how we're doing. What's going well for you? What would you like to see improved? Record a video or send your feedback in less than 5 minutes, and you'll help us to continue to improve. We appreciate your help.
5. Direct Message
A direct message request is similar to a testimonial request email, except you can reach your followers and fans on social media. This can be a useful strategy by itself, or you can use it alongside your public posts as well. Reach out to fans or followers who frequently engage with your content, and send them a message like this:
Hi [customers's first name]

I don't know if you saw our recent post, but I wanted to reach out to you about possibly getting your feedback. We've set up a webpage to gather text or video testimonials from customers, and it only takes a couple minutes to submit. If you have a couple minutes to spare, please tell us about your most recent experience with us, what you liked, or what you'd change. This is really valuable to us, and helps us keep improving! Thank you!

Your friends at [Business name]
---
SMS Testimonial Request Templates
Short message service, or SMS, more commonly known as text messaging, is a great way to directly contact your customers and clients. Unlike email, text messages are harder to ignore. Most people don't receive many "junk" text messages, so texts are less likely to get lost in your customer's inbox as well.
SMS testimonial requests should be used with caution. Only send SMS to your customers if you've received their express permission to do so. Keep your messages short and, if you send multiple messages, space them well apart. You can craft and send these messages with your own device, or you can use an SMS app to manage your contacts and automate your messages more efficiently.
These SMS testimonial request templates can help you ask for testimonials directly from your customers. Depending on the type of business you have and the way that you interact with clients, some of these might work better than others.
After a Visit
If you routinely follow-up with clients after a visit, this is a good time to also request a testimonial. If you already have a follow-up message, you might simply add on a testimonial request. If you don't yet have a follow-up message, consider customizing this one to suit your needs. Don't forget to include a link to your testimonial submission landing page, so customers know where to submit their testimonial. Provide instructions on your landing page so customers know how to submit and what they might say.
Hi [Customer's name], thanks for coming in today! We hope you enjoyed your visit. If you have any questions, feel free to contact us. If you enjoyed your visit, we'd love to hear from you! Share your thoughts at this link [link here]. Thank you!
Fixing an Issue
If your customer contacted you about resolving an issue, this can be a good time to follow up and revisit for a testimonial. Resolving customers' complaints satisfactorily can increase customer loyalty and lead to higher overall spending. If you think you've impressed your customer with the ability to problem solve, consider sending them a follow-up SMS and asking for a testimonial. However, be wary of sending these messages to customers who aren't pleased, or who aren't willing to rescind their negative feedback. Most reasonable customers will respond positively when you fix their issue, though some may not.
Hi [Customer's name], thanks for contacting our customer service. We hope that we were able to resolve your issue. If you have a minute, we'd love to get your feedback. Record a video or type a message here [link here] to share your experience. Thank you!
Completing a Project
When you complete milestones with your customer, this is another good time to ask for a testimonial. If you normally follow-up with your customer via SMS after completing a big project, consider using a link to your testimonial landing page as well. You might send a message like this:
Hi [Customer's name], I'm glad we were able to work together on this most recent project. I'd love to get your thoughts on the results and hopefully share your statements with other potential customers. If you have a couple minutes, please share your thoughts on this page with a video or text testimonial; [link here]. Thank you!
---
Email Drip Templates
If you're communicating with your customer via email, it's wise to follow-up multiple times. The easiest way to accomplish this is through an automated email drip. You might use an automated email program to configure pre-set messages to follow-up with your customer after an event takes place. Use Zapier integrations to allow Boast and these programs to work together seamlessly. You can use this email drip to ask for testimonials at varied intervals by spacing out the emails a few weeks apart, a month apart, or any interval that makes sense for you.
Consider the following email drip template and customize it as needed. This email drip template uses a discount to incentivize customers to provide feedback. Keep in mind that there are some rules in using incentivized testimonials, so be mindful of how you use the testimonials you collect in this way.
Email 1: Thank you email with incentive
Hi [Customer's name],
Thanks for visiting today, we're so happy you stopped in! We hope that you had a great experience. We'd love to get your feedback and hear about your experience. If you have a few minutes, share your thoughts on this page using text or video; [link here]. Provide a testimonial and you can claim a discount code for your next purchase!
Thanks!
[Your name]
[Your contact information]
Email 2: Shopping Discount
Hi [Customer's name],
We want to offer you a special discount! Use the coupon code [coupon code here] in our online store or mention this message at the closest location when you stop in. If you're looking for a special item, let us know how we can help.
Thanks!
[Your name]
[Your contact information]
P.S. We'd love to get your thoughts! If you haven't shared your experience with us, please do! Visit this page to share your thoughts with a video or text testimonial [link here]. Provide a testimonial and you'll receive a discount code for your next purchase!
Email 3: Claim your code
Hi [Customer's name],
Have you claimed your discount code yet? Tell us about your experience shopping with us and we'll send you a discount code for your next purchase! Visit this page [link here] to provide a written or video testimonial. We hope you'll stop in again soon!
Thanks!
[Your name]
[Your contact information]
---
How to effectively ask customers for a testimonial
It can be tough to know how to request a testimonial without seeming pushy or needy. Don't worry. Simply be honest, and remember that your happy customers will be glad to help you. To request a testimonial in the most effective way possible, keep these tips in mind.
1. Don't Wait
If you want to get testimonials, you have to ask for testimonials. The sooner you ask, the sooner you'll get them. While you want to make sure that your customer has a good idea of who you are and what you do, they don't have to be your number one fan to give a good testimonial. Once you're sure your customer has a good grasp of your business, ask them for a testimonial. Remember, you can always ask again later if they decline.
2. Solve Problems
Most people don't want to complain, they simply want their problem resolved. If you can resolve a customer's complaint and make the situation right, you can turn an unhappy customer into a lifelong customer. Put yourself in the customer's shoes. When was the last time you were impressed by run-of-the-mill service? If something went wrong and a business went above and beyond to fix it, did you remember that? Use a follow-up email or phone call to capitalize on these situations and request testimonials when they count the most.
3. Customize Your Testimonial Request
If you make your customer feel like a number, they're unlikely to do something nice for you. This is where customization comes in. Show that you understand the customer and their experience, and then request a testimonial. In some cases, this might mean making one-on-one time for your customer. It can also mean using customization in your testimonial automation process. For example, customize your emails with the customer's first name and other markers, or use automation triggers, so a customer receives a testimonial request email after they've completed a specific action.
4. Make it Easy
If your customer has to hunt down where and how to leave a testimonial, you've made the process too difficult. Remember that your customers are busy too, so make this process as fast and easy as possible. Use direct links to your testimonial page, and make sure these links work. If you're collecting video testimonials, don't make your clients download extra software or make time for an interview. Whatever method you choose, provide some prompts so customers don't have to come up with testimonials out of thin air.
5. Use Many Different Methods
You probably interact with your customers through email, in-person, social media, at events, and other ways. You should be requesting testimonials in many different ways as well. We'll provide some testimonial request email template later in the post, and we also have other testimonial request strategies and templates if you don't have a long email list.
6. Follow Up
It's easy for customers to forget about your testimonial request and get sidetracked with other things. This is why it's best to ask for a testimonial more than once. Don't be afraid to follow up with your happy customers more than once, just space out these requests accordingly and be sure to remove customers from the list once they've given a testimonial.
7. Automate
Your time is valuable. While you want to personalize your testimonial request where it counts, you also want to gather testimonials efficiently. Use email automation and email triggers effectively to send the right testimonial request at the right time without spending hours on the task.
8. Ask the Right Questions
Most clients don't know how to give a testimonial right off the bat. They're probably not sure what you're looking for or where to start. It's your job to ask the right questions so your customer feels comfortable, or to provide prompts to get them started. Consider prompts like, "what do you like about our business?" or "what problem did we solve for you?" or "how has your experience with us compared with competitors?"
9. Offer Incentives
Giving a testimonial means asking a customer to take time out of their day. Provide an incentive and they'll be more likely to do so. Consider giving them a little extra nudge by offering an incentive like a $10 Amazon gift card or an entry into a drawing to win an iPad. However, remember to always disclose that there was compensation involved when using these testimonials for marketing purposes. Also, though this is a good strategy to collect testimonials for your own purposes, remember that many review sites forbid this practice, including Google Reviews.
10. Be Sincere
If you don't feel comfortable incentivizing testimonials, just be sincere. Tell your customers how important their opinions are and why you need testimonials. Frame the request as a favor and you might be surprised how many customers are willing to help.
The best way to build a robust feed of testimonials is to use a combination of these ideas when asking for testimonials. The more touch points you create with your customers, the easier it will be to get a response. Just put yourself in the shoes of your customer. Chances are, it takes a few requests and marketing emails from companies you do business with to get you to take the next step in their strategy. Your customers are influenced the same way. Customize these tips for requesting testimonials along with our testimonial request emails templates, and you'll be receiving customer testimonials in no time.
Posted in: Testimonials